WADT 2012
21st International Workshop on Algebraic Development Techniques
Salamanca, Spain, June 7-10, 2012
WADT 2012 Travel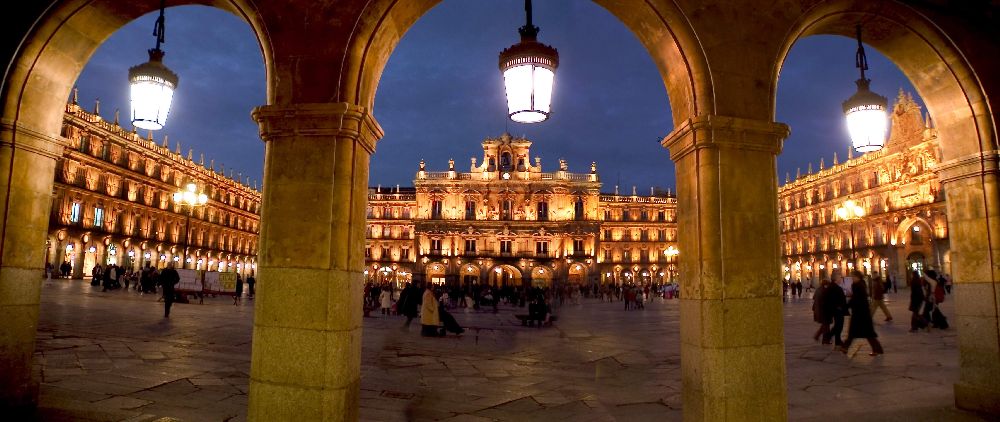 Travel directions
The venue of WADT 2012 is the Colegio Mayor Arzobispo Fonseca (Calle Fonseca, 4, 37002 Salamanca).
Click here to google-map the most relevant sites for the WADT 2012.
Although Salamanca has a small airport, at present it is only connected to Barcelona airport with 1 daily flight with Iberia (arriving at Salamanca late evening; departing from Salamanca early morning). In addition, these flights are very expensive.
Besides Salamanca, the two closest airports to this city are Valladolid and Madrid. Valladolid airport is the closest one (100 km from Salamanca), but it lacks an easy connection with Salamanca. So, unless you have the chance that someone picks you up, or takes you there, flying to Valladolid is not a good choice either. Valladolid airport is flight-connected with Barcelona and Valencia (Iberia) and with London-Stansted (Ryanair).
Madrid airport is, therefore, the most convenient option for most WADT participants. Although Madrid is 200 km away from Salamanca, there are express (direct) buses every hour covering the Madrid-Salamanca route for most of the day (from early morning to late evening). Salamanca is connected with Madrid by a motorway and the bus trip is 2.5 hours long. There are also trains between Madrid and Salamanca and they take 2 hours and 40 minutes; however, their frequency is lower than that of the bus. Overall, there are the following options:
There is a direct bus connecting Madrid airport and Salamanca. You can see the schedules, book in advance a ticket for this bus, and learn where exactly it departs from (the bus stop is situated at Terminal 1 of the airport), at
http://www.avanzabus.com/web/Aeropuerto-de-barajas/salamanca.html?lang=en


Moreover you can buy tickets and consult timetables inside the airport, at the El Corte Inglés travel agency located on the first floor of the T1 terminal.

If you cannot take the bus above, you can go to Madrid bus station (called "Estación Sur" or "Méndez Álvaro"). Then buy a ticket for the next "Express" (non-stop) bus service to Salamanca. The express service takes 2 hours and a half, while the normal service takes 3 hours and 5 minutes and has one stop in Ávila. The bus company that covers this route is called "Auto Res" or "Avanzabus", and tickets can be bought in advance at http://www.avanzabus.com. Salamanca bus station is the only stop for this bus and is located close to the city center, so one could just walk to the hotel (see here Salamanca bus and train stations map), though a taxi would be ok and cheap.

To get to Madrid bus station you can either take a taxi (about 20-30 minutes and costs around 30 euros) or take the train from the T4 terminal to "Atocha" station (30 minutes and 3 euros) and then walk for 25 minutes to "Méndez Álvaro". Alternatively, you can also take the underground (5 euros, about 1 hour) to "Méndez Álvaro", changing to line 6 (gray) at "Nuevos Ministerios" (here is a map of the subway lines).

Trains leave from "Chamartín" station. You can buy the tickets in advance at http://www.renfe.es. Salamanca main train station is called "Salamanca train station" or "Vialia". There is also small unstaffed station called "Salamanca-Alamedilla", closer to the city center: it is the first station when coming from Madrid, but note that trains do not depart from here (see here Salamanca bus and train stations map).

To get to "Chamartín" the best option is probably taking the train leaving from the T4 terminal. A taxi may be a bit faster (but it will cost around 25 euros) and the underground will be slower and more expensive unless you don't arrive at T4 terminal (here is a map of the subway lines).

If you prefer to come to Salamanca by car from Madrid, you need to get to the AP6 motorway; leave AP6 at exit 81 and take AP51 to Salamanca. The trip is about 230 Km and it usually takes about 2 hours and 15 minutes. The toll to be paid is about 9 &euros;.

In more detail, to go from Madrid to Salamanca by car one has to get to the A6 motorway (the "A Coruña" motorway). The easiest way to do it is to take one of the two main rings surrounding Madrid (M30 and M40) which connect with all the major motorways. In order to save a few kilometers when getting into the M30 or M40, be sure to do it following the sign indicating A6 on it. In particular, when leaving the airport by car, there are signs indicating the connection with the M40. Follow the ones with M40-north written on them. In case of doubt, follow the signs to the M11, which connects after about 3 Kms (exit 3) with the M40 in the right direction. Once in the M30 or M40, follow the signs showing "A6-A Coruña".

Once in the A6, follow it for about 80 Km. You will note that at some point, about 45 kms away from Madrid, the name of the motorway changes into AP6, which means that from that point the motorway becomes a toll-motorway. Leave the AP6 at exit 81 and take the AP51 (Villacastín-Ávila-Segovia). Follow the AP51 for about 22 Km and take exit 111 to the A50 to Salamanca.
About Salamanca
Salamanca, known as "The Golden Town" because of the golden stone of Villamayor of all its buildings, is a sequence of Roman, Visigothic, Romanesque, Gothic, Renaissance, Barroque and nineteenth-century towns.
The history of the city is characterized by the foundation of the University. Many historical personages were connected to it: kings, popes and figures like Fray Luis de León, Antonio de Nebrija, Francisco de Vitoria, Cervantes, Menéndez Valdés, San Juan de la Cruz, Miguel de Unamuno and Gonzalo Torrente Ballester.
Today, its more than 30.000 students are a lively and multicultural community. Salamanca, declared World Heritage by the UNESCO, has been the European Capital of Culture in 2002 because it stands out as an university city with a rich historical and artistic heritage. Salamanca can be described as an open city, cosmopolitan, and with a wide cultural activity.
Click here to browse our photography galleries.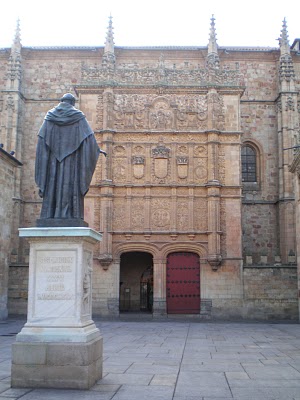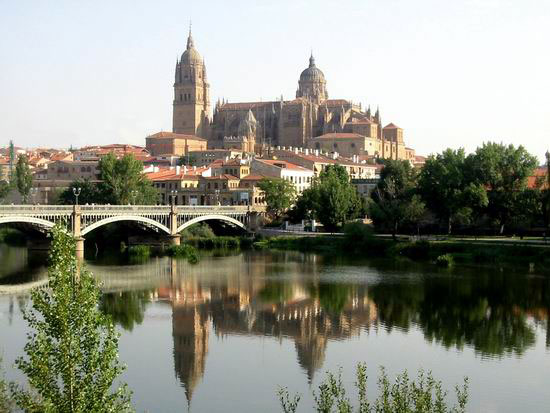 Salamanca (http://www.salamancatourvirtual.es/, http://www.salamanca.es/) is located about 200 km West of Madrid and can be reached as follows: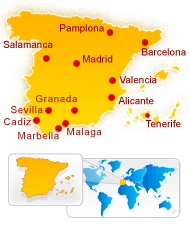 Useful Information
---

---

To Salamanca
Renfe
Information and Reserve tickets
Phone: +34 902 240 202
International Information
Phone: +34 934 901 122
Purchase tickets

---

---

---

---